TechBuzz:   Nvidia GeForce GTX 750 Ti and GeForce GTX 750 now launched  in India and price,specifications as follows..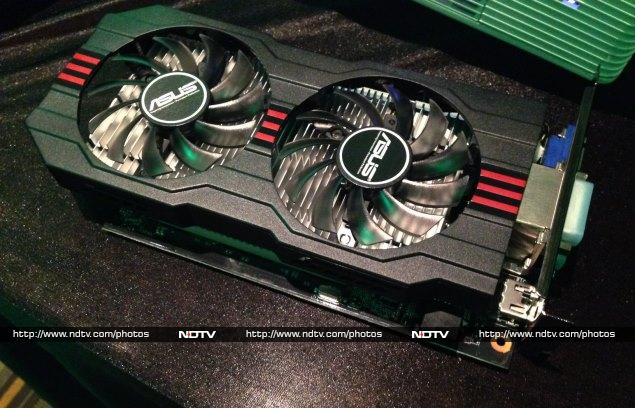 Nvidia has launched its latest graphics processors, the GeForce GTX 750 Ti and GeForce GTX 750 in India. The two GPUs are notable for being the first products based on Nvidia's latest Maxwell architecture, which promises significant performance improvements and power savings compared to previous generation products.

GeForce GTX 750 Ti cards will be priced at Rs. 11,990 onwards, while those featuring the slightly less powerful GeForce GTX 750 will cost Rs. 9,900 onwards.

In terms of specifications, the GeForce GTX 750 Ti has 640 CUDA cores and runs at 1,020MHz. It will come with 1GB or 2GB of GDDR5 VRAM running at 1,350MHz on a 128-bit bus. Its TDP is 60 Watts, and it can run entirely off the PCIe bus, without requiring an additional power connector.

The GeForce GTX 750 is much the same, but has 512 CUDA cores running at the same speed. Cards with this GPU will only be available with 1GB of GDDR5 VRAM, which runs slightly slower at 1250MHz. These cards will have 55W TDPs.


| GPU | GK107 (Kepler) | GM107 (Maxwell) |
| --- | --- | --- |
| CUDA Cores | 384 | 640 |
| Base Clock | 1058 MHz | 1020 MHz |
| GPU Boost Clock | N/A | 1085 MHz |
| GFLOPs | 812.5 | 1305.6 |
| Texture Units | 32 | 40 |
| Texel fill-rate | 33.9 Gigatexels/sec | 40.8 Gigatexels/sec |
| Memory Clock | 5000 MHz | 5400 MHz |
| Memory Bandwidth | 80 GB/sec | 86.4 GB/sec |
| ROPs | 16 | 16 |
| L2 Cache Size | 256KB | 2048KB |
| TDP | 64W | 60W |
| Transistors | 1.3 Billion | 1.87 Billion |
| Die Size | 118 mm² | 148 mm² |
| Manufacturing Process | 28-nm | 28-nm |
Tags: GeForce, GeForce GTX 750, GeForce GTX 750 launch, GeForce GTX 750 price, GeForce GTX 750 price in India, GeForce GTX 750 specifications, GeForce GTX 750 Ti, GeForce GTX 750 Ti launch, GeForce GTX 750 Ti price in India, GeForce GTX 750 Ti specifications, Nvidia, Nvidia GeForce, Nvidia GeForce GTX 750, Nvidia GeForce GTX 750 Ti
Read More @ http://gadgets.ndtv.com/laptops/news/nvidia-geforce-gtx-750-ti-and-geforce-gtx-750-launched-in-india-485133